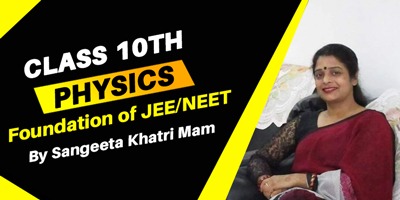 Class X Physics - Foundation Of Neet And Jee - Explanation
Science
Hinglish
Total Chapters: 4
Class X Physics - Foundation of NEET and JEE - Explanation.
Its for all students studying under the State Board and following NCERT curriculum.
Course is helpful to build a solid foundation for those students pursuing JEE/NEET.
Total syllabus is covered in Hinglish language and in very simple manner.
Most of the important questions of NCERT Exemplar are solved along with Questions.
Full Explanation for all topics important Foundation of JEE/NEET.
Recorded Video Lectures.
Revision Video For each chapter for Quick revision.
Chapter 1 Light Reflection And Refraction
Refraction- Laws Of Refraction

5 Minutes

Refraction Of Light

6 Minutes

Laws Of Refraction And Spherical Mirrors

28 Minutes

Image Formation By Spherical Lenses

20 Minutes

Numericals On Lens Formula

6 Minutes

Reflection And Refraction

68 Minutes
Chapter 2 Human Eye And Colorful World
Human Eye And Colourful World 1

15 Minutes

Defects Of Vision And Its Correction

12 Minutes

Human Eye Refraction Of Light Through Glass Prism

15 Minutes

Quick Revision

35 Minutes
Chapter 3 Electricity
Electricity- Ohm's Law Verification Of Ohm's Law.

7 Minutes

Electricity - Total Resistance In Parallel Combination

11 Minutes

Electricity - Total Resistance In Series Combination

5 Minutes

Electricity Joules Law Of Heating

15 Minutes

Electricity - Complete Revision

43 Minutes
Chapter 4 Magnetic Effects Electric Current
Magnetic- Effects Of Electric Current

27 Minutes

Force On Current Carrying Conductor In Magnetic Field

10 Minutes

Electric Motor

7 Minutes

Electromagnetic Induction

7 Minutes

Electric Generator

6 Minutes