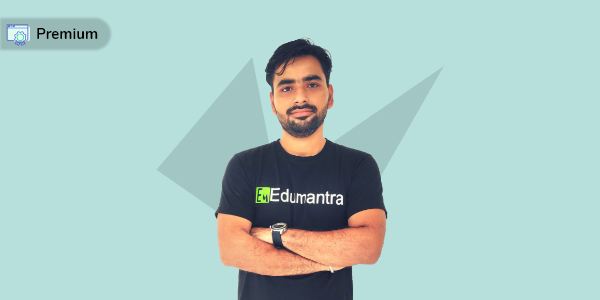 Class 10th All Subjects Live Batch 2021
All Subjects
Hinglish
Total Chapters: 4
Class 10th All Subjects Live Batch 2021.
Learn From Edumantra Team Live on our website.
Get Recorded Live Classes after live class is held.
All All Subjects concepts will be covered in details.
Doubt Classes will be held live on this platform.
Get Prerecorded Video Lecture along with this.
Class Notes will also be provided in this course
Sample papers will be provided before exams.
Note:- New Live Classes are being geld and uploaded on Daily Basis. Syllabus will be fully completed by the end of September.
Class 10th Science Live Batch 2021
1st April Science Chapter 1 - Chemical Reaction And Equations Live Class

84 Minutes

2nd April - Class 10th Science Chapter 1 - Practice

59 Minutes

7th April 2020 - Life Process Part 1

35 Minutes

11th April 2020 - Life Process Part 3

67 Minutes

16th April 2020 - Life Process Part 4

22 Minutes

21th April 2020 - Electricity Lecture 3

32 Minutes

22th April 2020 - Electricity Lecture 4

32 Minutes

22th April 2020 - 2 - Electricity Lecture 4

48 Minutes

26th April 2020 - 2 - Heat Generated

38 Minutes

27th April 2020 - Electricity Numericals

61 Minutes

1st May 2020 - Motion

53 Minutes

7th May 2020 - Science Test

52 Minutes

9th May 2020 - Acid Bases Salts 1

62 Minutes

11th May 2020 - Acid Bases Salts 2 - Rgt Classes

66 Minutes

18th May 2020 - Acid Bases Salts 3

62 Minutes

29th May 2020 - Light Reflection Of Light

68 Minutes

1st June 2020 - Light

66 Minutes

8th June 2020 - Light 2

68 Minutes

15th June 2020 - Light 3

67 Minutes

16th June 2020 - Light 4 - Part 1

22 Minutes

16th June 2020 - Light 5 - Part 2

37 Minutes

20th June 2020 - Light Numericals

58 Minutes
Class 10th Math Live Batch 2021
Polynomials Extra Questions - Ex. 2.3 (10th April 2020)

30 Minutes

Polynomials Extra Imp Questions Live Class (13th April 2020)

36 Minutes

Statistics Lecture 1 (14 April 2020)

20 Minutes

Statistics Lecture 3 (19th April 2020)

48 Minutes

23rd April 2020 - Statistics Lecture 4 (14.3)

51 Minutes

28th April 2020 - Probability Part 2

47 Minutes

29th April 2020 : Triangles - Rgt Classes

58 Minutes

30th April 2020 - Pair Of Linear Equation

26 Minutes

1st May 2020 - Quadratic Equation Chapter 4 Full Chapter

23 Minutes

5th May 2020 - Triangles 1

58 Minutes

6th May 2020 - Triangles 2

49 Minutes

12th May 2020 - Triangles 3

64 Minutes

13th May 2020 - Triangles 4

59 Minutes

16th May 2020 - Triangles 5

64 Minutes

19th May 2020 - Triangles 6

61 Minutes

24th May 2020 - Triangles 7

64 Minutes

25th May 2020 - Triangles 8

51 Minutes

26th May 2020 - Triangles 9

56 Minutes

28th May 2020 - Arithmetic Progression 1

55 Minutes

29th May 2020 - Arithmetic Progression 2

48 Minutes

30th May 2020 - Arithmetic Progression 3

49 Minutes

31st May 2020 - Arithmetic Progression 4

52 Minutes

1st June 2020 - Arithmetic Progression 5

45 Minutes

2nd June 2020 - Arithmetic Progression 6

33 Minutes

3rd June 2020 - Arithmetic Progression 7

25 Minutes

5th June 2020 - Arithmetic Progression 8

62 Minutes

6th June 2020 - Coordinate Geometry

53 Minutes

8th June 2020 - Euclid Geometry

47 Minutes

9th June 2020 - Circle

49 Minutes

10th June 2020 - Circle 2

50 Minutes

15th June 2020 - Quadratic Equation 1

51 Minutes

19th June 2020 - Quadratic Equation 2

52 Minutes

22th June 2020 - Quadratic Equation 3 - Part 1

31 Minutes

22th June 2020 - Quadratic Equation 4 - Part 2

8 Minutes

22th June 2020 - Quadratic Equation 5 - Part 3

20 Minutes
Class 10th Social Science Live Batch 2021
3rd May 2020 - Economics - Chapter 1 - Development

57 Minutes

14th May 2020 - Sector Of Indian Economy - Economics

58 Minutes

28th May 2020 - Economics - Chapter 2

58 Minutes

5th June 2020 : History - Introduction

30 Minutes

9th June 2020 : History Nationalism In India

48 Minutes

11th June 2020 : Economics Chapter 1 (resources And Development)

52 Minutes

12th June 2020 : Economics Chapter 2 - Part 1

49 Minutes

13th June 2020 : Economics Chapter 2 - Part 2

57 Minutes

17th June 2020 : Geography - Chapter 1

51 Minutes

18th June 2020 : History - Rise Of Nationalism In Europe

67 Minutes

19th June 2020 : History - Rise Of Nationalism In Europe

81 Minutes

24th June 2020 : Geography - Resource And Development 1

19 Minutes

25th June 2020 : Geography - Resource And Development 2

44 Minutes

1st July 2020 : History - Rise Of Nationalism In Europe

29 Minutes

2nd July 2020 : Dp - Power Sharing 1

61 Minutes

8th July 2020 : Dp - Power Sharing 2

61 Minutes

16th July 2020 : Dp - Power Sharing 3

52 Minutes
Class 10th English Live Batch 2021
11th July 2020 - English - Grammar Session

65 Minutes