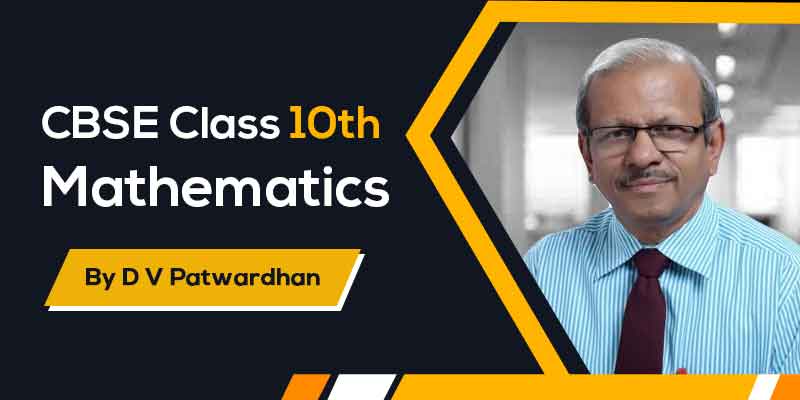 Mathematics : Class X : Cbse
Maths
English
Total Chapters: 18
Concept Maps have been provided at the end of each chapter which will be useful for Instant and Effective Revision.
Assignments have been provided through the pdf attachments.
Notes on Time Management during Maths Exam.
Toppers effective revision Technique.
7 common mistakes while preparing for maths exams.
Solved Previous Years Papers 2014, 2015, 2016
Important Questions of 1 Mark
Important Questions of 2 Marks
Important Questions of 3 marks
Important Questions of 4 Marks.
Polynomials
Polynomials Part 1

13 Minutes

Polynomials Part 2

23 Minutes

Polynomials Part 3

17 Minutes
Pair Of Linear Equations In Two Variables.
Part 1

19 Minutes

Part 2

20 Minutes

Part 3

24 Minutes

Part 4

32 Minutes

Part 5

55 Minutes

Part 6

28 Minutes
Quadratic Equations
Quadratic Equations Part 1

37 Minutes

Quadratic Equations Part 2

33 Minutes

Quadratic Equations Part 3

27 Minutes

Quadratic Equations Par 4

40 Minutes

Quadratic Equations Part 6

36 Minutes

Quadratic Equations Part 7

52 Minutes
Arithmetic Progression
Part 1

23 Minutes

Part 2

46 Minutes

Part 3

42 Minutes

Part 4

42 Minutes
Similar Triangles
Part 1

6 Minutes

Part 2

18 Minutes

Part 3

33 Minutes

Part 4

24 Minutes

Part 5

20 Minutes

Part 6

36 Minutes

Part 7

37 Minutes
Co-ordinate Geometry
Part 1

13 Minutes

Part 2

47 Minutes

Part 3

102 Minutes

Part 4

74 Minutes

Part 5

56 Minutes
Introduction To Trigonometry
Part 1

59 Minutes

Part 2

33 Minutes

Part 3

22 Minutes

Part 4

40 Minutes

Part 5

54 Minutes
Some Applications Of Trigonometry
Some Applications Of Trigonometry Part 2

28 Minutes

Some Applications Of Trigonometry Part 3

32 Minutes

Some Applications Of Trigonometry Part 4

17 Minutes
Construction
Construction Of Similar Triangles

40 Minutes

Construction Of Tangent To A Circle

25 Minutes
Areas Related To Circles
Part 2

30 Minutes

Part 3

42 Minutes
Surface Areas And Volumes
Part 1

16 Minutes

Part 2

41 Minutes

Part 3

47 Minutes

Part 4

31 Minutes
Statistics
Part 1

30 Minutes

Part 3

28 Minutes

Part 4

19 Minutes

Part 5

33 Minutes
Probability
Part 1

17 Minutes

Part 2

30 Minutes

Part 3

20 Minutes

Part 4

30 Minutes

Part 5

24 Minutes

Part 6

31 Minutes
Previous Years Papers (2014, 2015, 2016 )
Question Paper 2014 (hindi -english )

173 Minutes

Question Paper 2015 ( Hindi - English )

184 Minutes

Question Paper 2016

184 Minutes
Most Important Questions
Important Questions Of 4 Marks

64 Minutes

Important Questions Of 3 Marks

52 Minutes

Important Questions Of 2 Marks

75 Minutes

Important Questions Of 1 Marks

46 Minutes