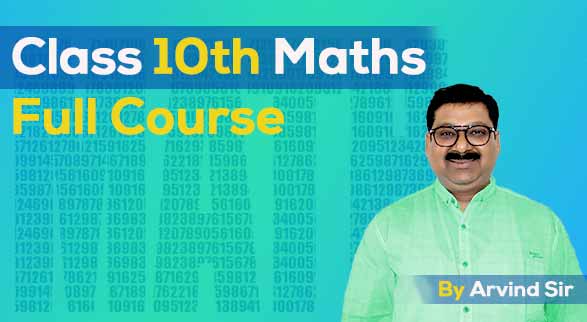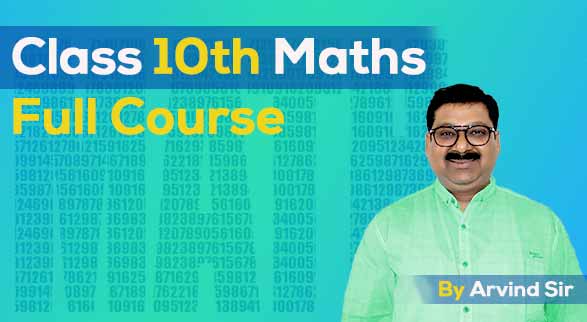 Class 10th Maths Full Course by Arvind Sir
834 Users Enrolled
Class 10 , Maths
Board: CBSE & State Boards , Language: Hinglish
Mode- Online
Contains- 37 Videos
Access Duration- Till 31 Mar 2020
WHAT WILL I LEARN?
Class 10th Maths Full Course
Complete understanding of Maths concepts
Doubt Session with Arvind Sir.
Course Description
Vidyakul presents Class 10th Maths Full Course by Arvind Sir. This course contains all chapters in Class 10th Maths, So you dont have to go anywhere else. Just get this course now and start preparing. Students will get doubt session with so that the can clear their concepts and achieve great results in their exams
Curriculum
Chapter 1 | Real Number
1.2 Ex.1.1

1.3 Fundamental Theorem of Arithmetic

1.4 Exercise Questions Ex. 1.2

1.5 Irrational Numbers Proving

1.6 Proving Irrational Questions Ex. 1.3

1.7 Rational no. and decimal Expansion

1.8 Hot Questions for Exams
Chapter 2 | Polynomials
2.2 Geometrical Meaning of Zeros of the Polynomials

2.3 Ex. 2.1 and Relation between coeff and zeroes of the Polynomials

2.4 Ex.2.2-4

2.5 Important Questions

2.6 How to divide a Polynomial , Division algorithm for Polynomials

2.7 Ex. 2.3 and Division algorithm

2.8 Ex.2.3 and Ex. 2.4 Questions on division algorithm

2.9 Important Questions
Chapter 3 | Linear Equations in Two Variables
3.2 Ex.3.1 and 3.2 Different Cases of pair of Lines-1.mp4

3.3 Substitution, Elimination, Cross Multiplication Methods (Algebraic Methods)

3.4 Ex.3.3

3.5 Ex. 3.4 (Elimination Method)

3.6 Ex.3.5 (Cross Multiplication Method)

3.7 Ex. 3.6 Equations reducible to Pair of Linear Equations in Two variables

3.8 Ex.3.6 Part 2

3.9 Misc Ex.-10
Chapter 4 | Quadratic Equations
4.1 Quadratic Equation Intro and Standard Form

4.2 Ex. 4.2 Roots of Quadratic Eq.

4.3 Solving Quadratic by Completing the Square Method

4.4 Ex. 4.3 Quadratic

4.5 Ex. 4.3 Q6 to Q9

4.6 Misc and Ex. 4.3

4.7 Important Q. on Quadratic Equations
Chapter 5 | Arithmetic Progressions
5.1 Understanding A.P. and nth Term of an A.P.

5.2 Ex. 5.1

5.3 Ex.5.2

5.4 Ex.5.3 Q12 to Q20
Chapter 7 | Coordinate Geometry
Chapter 8 | Introduction to Trigonometry
Chapter 9 | Some Applications of Trigonometry
Chapter 11 | Constructions
Chapter 12 | Areas Related to Circles
Chapter 13 | Surface Areas and Volume
About Arvind Sir
Arvind Sir
Physics & Maths | Class 11th & 12th | 15+ Years Experience | Arvind Sir is the Director of Arvind Academy. Arvind Sir has dedicated his life to help students achieve their goals in exams by providing them quality education.
If you have any doubts about how to get and access this course,watch this video.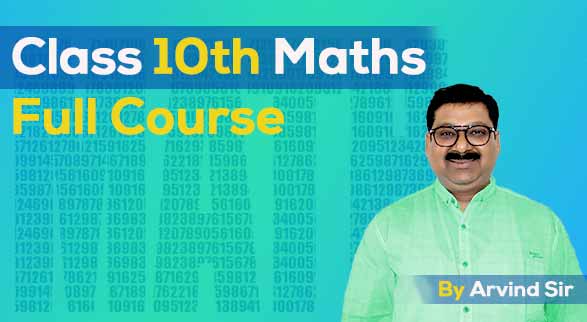 4500
2997
Includes 18 % GST
Mode- Online
Contains- 37 Videos
Access Duration- Till 31 Mar 2020